Gillray's Works
Gillray's Drawings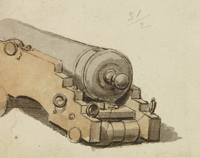 There are approximately 300 Gillray drawings and sketches surviving in major museums. But there are no doubt others residing in smaller and private collections, so the total number extant can only be guessed at. From my cursory examination of those that are publicly accessible, Gillray's drawings seem to fall into five broad categories.
Preparatory Sketches and Studies for de Loutherbourg's Paintings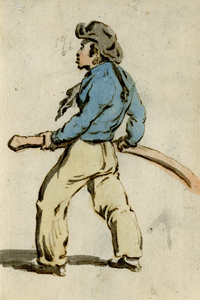 Somewhat surprisingly, the greatest number of surviving Gillray drawings were created in 1793 and 1794 as part of two projects with the painter Philip James de Loutherbourg, neither of which had anything to do with caricature. But before lamenting this odd fact of art history, we should remember that the notorious reputation of caricature in the 19th century was such that these drawings were more than likely preserved because they were NOT caricatures and were, for some time, thought to have been created by de Loutherbourg himself.
A painter of dramatic landscapes, seascapes, and set designs for the Drury Lane Theatre, Philip James de Loutherbourg had been commissioned in August of 1793 by the print publishers V. and R. Green and Christian von Mechel to create a large scale painting commemorating the Duke of York's victory over the French army at Valenciennes. The plan was to take advantage of the patriotic interest in the event to make money displaying the painting to a select audience and more money from the sale of a print based on the painting. Gillray was hired to accompany de Loutherbourg to Valenciennes to take likenesses of the principal officers and sketches of cannons, uniforms, pack horses, and other military equipment that would likely appear in a painting of the battle scene while de Loutherbourg concentrated on the general topography. The later Gillray prints of General Count Clairfayt and The Prince of Saxe-Coburg were two of the results of this assignment.
Gillray would have had a number of opportunities to meet de Loutherbourg. But as an avid theatre-goer, Gillray would mostly likely have come to know him through the Drury Lane Theatre where, since 1771 de Loutherbourg had been designing scenery, costumes, and special effects for productions. And if not before, Gillray would certainly have known him (or of him) by 1778 when Gillray and de Loutherbourg were both producing works about the military encampment at Coxheath. In any case by 1793, Gillray was the best known caricaturist of his time, and de Loutherbourg would have appreciated Gillray's speed and agility in capturing likenesses and his sense of gesture and drama in the presentation of figures, all of which would be helpful in representing the battle scene at Valenciennes.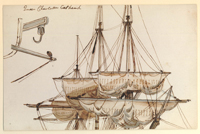 Parliament was out of session from June 21st 1793 until January 21st of 1794, so the trip with de Loutherbourg did not interfere with Gillray's political and satiric work for Mrs. Humphrey. But his willingness to leave London for what was, in effect, a war zone speaks again to the strength and persistence of Gillray's desire to gain recognition, even at second hand, as a serious artist.
In spite of the oft-repeated story that Gillray's sketches were summarily dismissed by the King when he saw them upon Gillray's return to London, the trip with de Loutherbourg must have been sufficiently rewarding both personally and artistically for Gillray to engage in a second and similar partnership with de Loutherbourg the following summer. In that case, de Loutherbourg's projected painting was intended to celebrate the naval victory of Lord Howe over the French fleet off Ushant. For that work, Gillray travelled to Portsmouth and made dozens of detailed studies of ships, sails, rigging, flags, guns, sailors, and other naval items. Given the number of drawings and the loving care with which many of them are done, I can't help thinking that this was a sort of holiday for Gillray, an opportunity to get out of London and use his considerable talents as a draughtsman and watercolourist upon objects not usually part of his everyday work.
Preliminary Caricature Portraits
Not surprisingly for a man who came to specialize in vivid caricature portraits of the most famous men and women of his time, there are preliminary caricature portraits surviving in several different collections across the world, including (most notably, the British Museum in London and the Fitzwilliam Museum in Cambridge). These are most often small, card-sized profile sketches of heads done in pencil or brown ink which could be created quickly and unobtrusively without the subjects even being aware that they were being sketched. Sometimes Gillray would include (virtually illegible) notes to himself about color, posture, and other details that could help him when he later used the profile in an actual print. Indeed, I suspect that when Gillray includes the notation of "ad vivam," drawn from life on a finished print, he means that he made a profile sketch like the one on the right of Lord Moira.
What is perhaps more surprising is that given the hundred or more people Gillray caricatured, there are in fact, so few of these surviving preliminary portraits. It seems likely that Gillray began making caricature portraits around 1780. The small, card sized prints of Lady Cecilia Johnston, Lady (Mount) Edgcumbe, and the Earl of Hertford from that time undoubtedly started as drawings and were probably the beginning of a lifelong practice. And if it wasn't already obvious, the advantages of preliminary studies would have been confirmed by his experiences with de Loutherbourg in 1793. But once Gillray had created a print from the portrait drawing, he may have thought that keeping the sketch was no longer necessary. That may explain why the surviving portrait caricature sketches that can be tied to a specific print represent the exception rather than the rule.
But these exceptions confirm what we would have expected. His self-assured sketch of Lord Moira, created in pen and ink, for instance, is brilliant in its economy, capturing Moira's profile, sideboards, hat, and uniform with a few swift strokes. And it appears largely unchanged in the A Man of Importance (1799) and Lord Longbow, the Alarmist. . . (1798).
Preparatory Sketches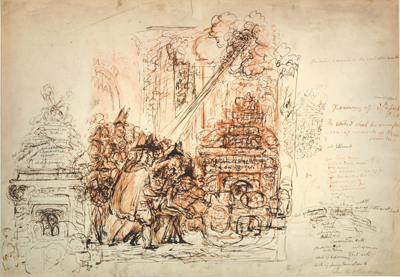 Satiric caricature usually begins with a controlling visual/verbal metaphor—a Dido forsaken, a plum pudding being sliced up, a fungus upon the crown. In the best caricatures, the visual/verbal metaphor makes immediate sense and the arrangement of the caricatured figures across the visual space of the print then supports and further elaborates the metaphor to make the satiric point. In his era, no one did these things better than Gillray. But the handful of surviving preparatory sketches suggests that it wasn't always easy. Here we come closest to the fever pitch of Gillray's creative process as he quickly sketches both visual and verbal ideas, feeling his way to a final integrated design.
A good example is the sketch in the British Museum called The Pillar (Altar) of the Constitution (Museum # 2001,0728.59) which was begun as a satire on the broad-bottomed ministry's support of Catholic emancipation. And it is clearly the basis of The Pillar of the Constitution dated (but probably not published) on June 4, 1807. On the far left, Gillray has sketched in black or dark brown ink an altar inscribed with the words "ALTAR of the British Constitution." Stacked upon it are objects/books(?) labeled "Act of Supremacy," "Bill of Rights," "Act of Settlement," "Revolution of 1689"—all of which allude to the establishment of England as a Protestant, not a Catholic, country. At the bottom in a semi-circle before the altar are the bare indications of figures which may have become conspirators intent upon destroying this altar.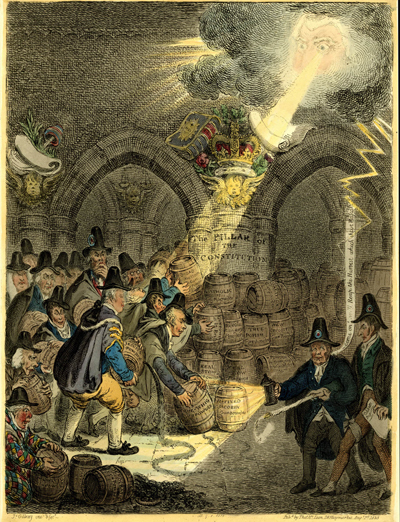 In the center of the drawing, highlighted with red ink and wash, Gillray seems to have begun again. The Altar of the Constitution (barely legible) is still there with an indication of the Act of Supremacy. But now the figures (becoming recognizable) are standing to the side of the altar with hats suggestive of Guy Fawkes. They are laying barrels of gunpowder before the altar, while an all seeing eye looks down from above. The red wash highlighting this part of the sketch suggests that the orientation has now changed from landscape to portrait as in the etched design.
In the lower right hand corner, Gillray takes yet another crack at the list of accumulated laws and oaths defining England as a Protestant country: the Act of Settlement, Coronation Oath, Act of Union, Test Acts, etc. And above that list he tries out a potential title and subtitle for the print: "Discovery of the ['Broad-Bottomd' inserted)] Popish Plot," "The wicked shall be caught in the worst of their crimes"
But at some point he must have realized the awkwardness of the altar metaphor. And for a moment, he seems to have played with another idea—the Temple of the Constitution which is lightly sketched in next to the second version of the altar. But having identified the figures as conpirators a la Guy Fawkes, he must have realized that he could locate them in the bowels of the Houses of Parliament with their barrels of gunpowder. And instead of using text to specify the nature of the constitution, he could use text and his prolific talent for individual caricature to identify the conspirators. In the nearly final etched version, the altar then becomes the "Pillar of the Constitution" capped with the crown and holy Bible. And two figures on the right (not included in the drawing at all) serve to balance the composition.
Preparatory Studies of Figures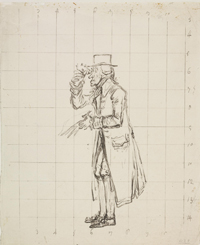 Another significant category of drawings consists of studies of figures that appear in completed prints, usually squared or ruled for transfer. Among the ones I know about are a study of Sir William Hamilton used in A Cognoscenti contemplating ye Beauties of ye Antique (1801), seven studies of figures for the print of Connoisseurs Examining a Collection of George Morland's (1807), one of Maecenas in Pursuit of the Fine Arts (1808), one of A Calm (1810) and two of The Graces in a High Wind (1810). All of these are late in Gillray's career, which may be an accident of preservation. But it may also represent a crisis, not so much of skill (for the drawings are clearly competent) but of Gillray's confidence in his own abilities. Given the hectic pace of Gillray's production in the 1790s, it's unlikely that he would have had the time for as much prepratory work as we see in the George Morland print, for instance, but the number of other squared drawings suggests that the process of drawing and then transferring might have been one part of his process even earlier. The question of how and when he would have used this technique is one of many questions about Gillray's art which remain to be explored.
Finished Drawings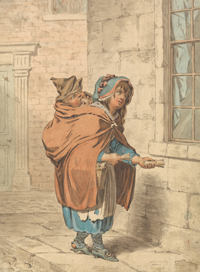 Finally, there is another category of drawings which I'm calling "Finished Drawings." These are drawings in pen and ink with watercolor. They are "finished" in a style and to a degree that would be completely unnecessary for a future print, so they seem to be one of those rare cases in Gillray's art when the drawing is an end in itself. There are two examples at the Yale Center for British Art: A London Street Crier, and Two Men at Fisticuffs. But in a recent auction on artnet, there was a Gillray drawing of "A street seller carrying a basket on her head" which looks like it might have been a companion to the Yale "Street Crier." The beauty of these works suggest that Gillray could have been the rival and equal of Rowlandson as draughtsman and watercolourist had he chosen to channel his efforts that way.
Sources and Reading
Draper Hill, Mr. Gillray The Caricaturist, 1965, pp.49-53 for Gillray's trip with de Loutherbourg
"Philip James de Loutherbourg," Wikipedia
"Guy Fawkes," Wikipedia
Commentary from the British Museum on The Pillar (Altar) of the Constitution [Drawing]
Commentary from the British Museum on The Pillar of the Constitution [Print]
NEXT: A Catalogue of Gillray's Drawings